*今回は日本語と英語、両方使うのがチョイとめんどいんで英語だけにさせて頂きます* m(_ _)m
OK
so you guys have been asking so I decided to put this together. Just a disclaimer: As I've mentioned this many times, my way is
NOT
the best method out there. I am neither a professional nor have I ever taken any classes. So if anyone who knows enough about animation and don't like my methods, well QAQ so far, this is the best way to do things FOR ME. I'm just showing others how I do my animations so please refrain from any negative comments about my methods, thanks you. m(__ __)m
p.s. I am rly RLY BAD at explaining things... OTL feel free to ask questions.
SO ANYWAYS, ON TO THE TUTORIAL 8D Ok. so
My Tools of trade are : Sai and Adobe ImageReady... Oh and a pen tablet (without one, animating is a bitch. excuse my language OTL). You can use any drawing program and gif-making programs out there as a substitute 8D
PART 1: SKETCH and BASE
1. It's improtant to start off knowing what kind of movements you want your animations to do. I decided that I want another hair swishing, eye blinking, simple animation 8D So I start off with a sketch of whatever character I'm animating. There's no movement yet. Everything drawn is all done in Sai.
2. Once you've decided on a sketch, then you start inking! I always ink the parts that move and the parts that don't move on separate layers 8D It save so much more time. I start inking everything that doesn't move first in one layer. This will become your base.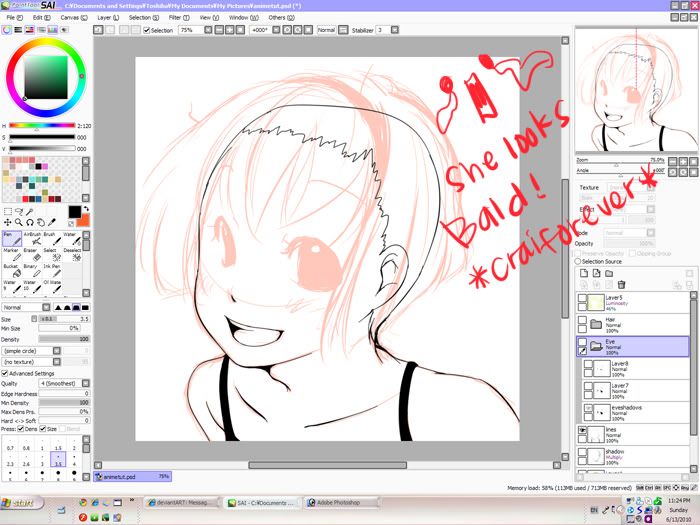 Try and make sure you ink with no gapes betewwn lines. It'll save you a gazillion more hours if you can select each part using the "Magic Wand" tool. :'D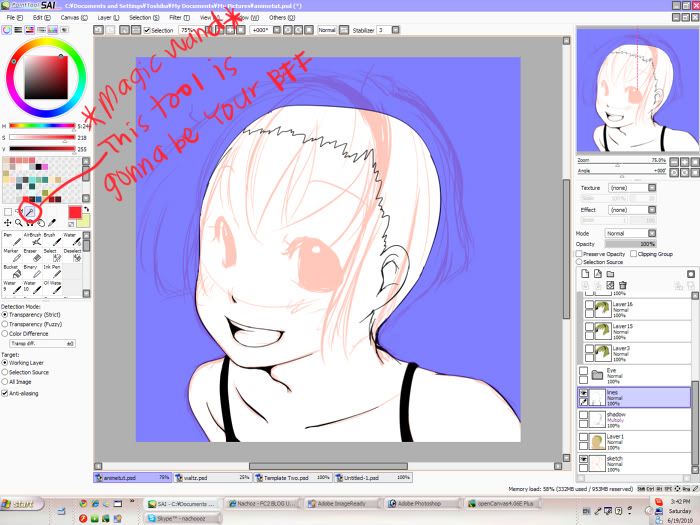 See how i can select everything outside of the character using the magic wand tool? You should try to ink like you're isolating each part (the skin, the hair the clothes, etc.. It makes the coloring process easier.
Notice how the eyes and hair are not inked yet? That's because those are the parts that "move," the parts that are animated. If your drawing program (like sai) has a folder system where you can organize your layers in, homg you better start getting use to using them if you want to animate this way. You shud make separate forlders for each different part you want to animate (for me, I would have one for the eyes and one for the hair).
3. Once you've inked, it's time to color the base. *u*
Remember that magical tool called the magic wand I mentioned earlier? WELL IT'S TIME TO START CALLING IN YOUR COLORING BFF CUZ YOU'RE GONNA BE USING THAT A HELL OF A LOT in this tutorial QuQ Choose the magic wand and select all the area you want to fill for the skin and bucketfill that area in a new layer underneath the base layer. Next choose the hairline (Q[]Q the baldness has color too) with the wand and bucket fill that with whatever color you choose (my character's hair is green this time so...) in the same layer (or different one if you're paranoid about messing up). OTL I DREW THE EYE ON A NEW LAYER IN THE EYE FORLDER ALREADY BECAUSE IT LOOKS WEIRD WITHOUT EYES QAQ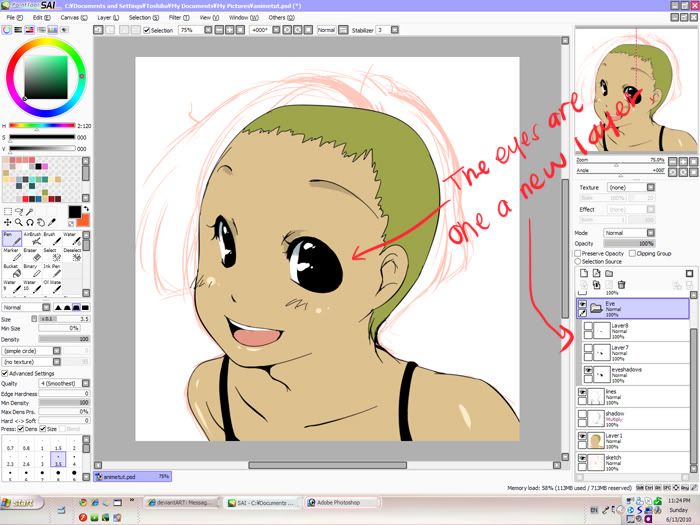 Lock that layer and bust out a new Multiply layer above the base colors and use a rahter light grey color and add your shadows. The easiest way for me to color within the lines when i do this part is to select everything out side of the base lines and go to "Selection(S) --> Invert (I)" and it should now be selecting everything inside of the base lines. From there I color with my light grey color on the multiply layer with the regular pen tool to add my shadows.
Just press "Ctrl + D" To deselect your selections 8D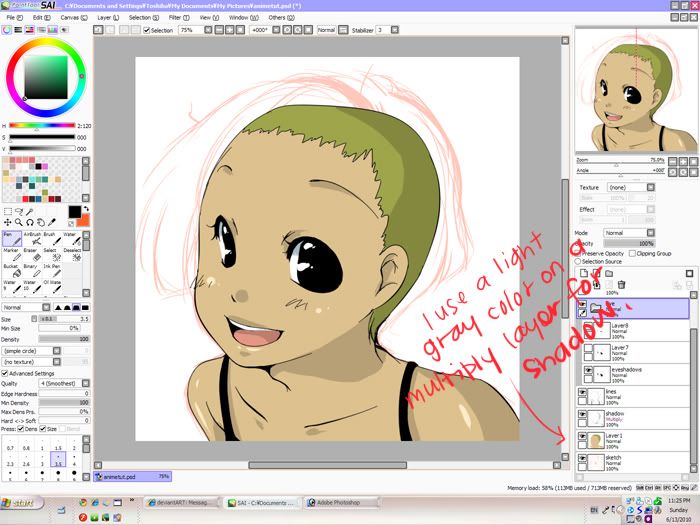 I added little highlights and dots on the base colors layer. =u=b
SO FAR SO GOOD? I HOPE I HAVENT LOST YOU YET OTL THIS WAS THE EASY PART OTL
PART 2: ANIMATING EYES
Before we start, just some general terms if you don't know them.
-FRAME is one of the many single photographic images in a motion picture. Veiwing these individual frames in sequence gives the eye and illusion that the image in moving.
-A KEY FRAME in animation and filmmaking is a drawing that defines the starting and ending points of any smooth transition. A sequence of keyframes defines which movement the spectator will see, whereas the position of the keyframes on the film, video or animation defines the timing of the movement.
- Inbetweens are the drawings between the key frames which help to create the illusion of motion. Those are what really defines the movements that your veiwers will see.
- Frame rate, or frame frequency, is the frequency (rate) at which an imaging device produces unique consecutive images called frames.
*all the definitions are taken from wiki OTL*
Blinking eyes are of course one of the easiest things to animate in anime, but have you noticed that When people try to make their characters blick, some people can make them look natural but others make them blink really slow? I like to use just 3 frames when making my characters blink.
1. Make a layer in you Eye folder (if you have folders) and draw and color your character's eyes open if you havent done that already (like I did OTL)
2. Make a copy of that same layer above it and carefully erase about the top half of those eyes and draw in those areas to complete your half-eye.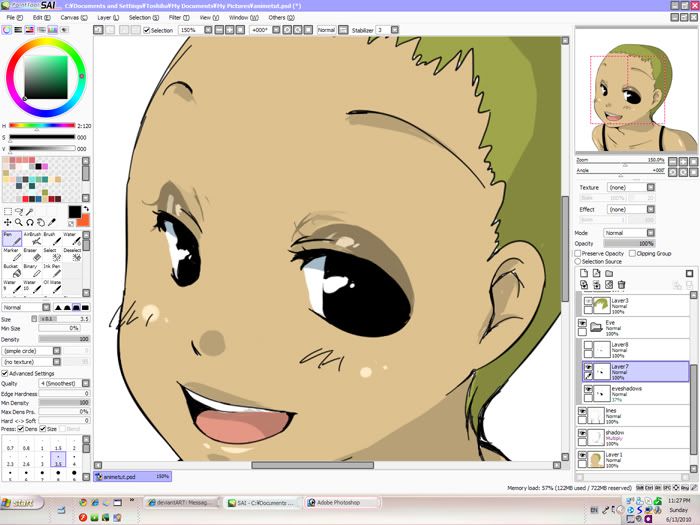 I always like to be able to kinda see the eye that goes before it so I change the opacity previous eye layer to about 50% so it looks like its in the bg 8D
3. Make a brand new layer for your closed-eye layer and and draw your character's closed eyes 8D
I always like to bring the eyebrows slightly (SLIGHTLY) down when the eyes are closed. They seem more natural to me that way. You don't have to. It's just a thing I like to do 8D
4.LETS PUT TOGETHER THE BLINKING CYCLE!
Save your file (as a psd) and Open it in ImageReady (or whatever gif program you use).
line your frames up EXACTLY the way I have it:
EYES CLOSE SLIGHTLY FASTER THEN WHEN THEY OPEN. That's why my frames are lined up like that. play with it, change the frame rates and whatnot and want you character blink away! 8D
Result
PART 2: ANIMATING HAIR
UGH. THIS IS THE MOST TEDIOUS PART IN ANIMATING. QAQ
Get your patience ready, this is gonna be a looooooooong step to finish.
1. Starting with frame one, we will ink the first of the hairs. Just like when I was inking the base lines, You want to ink so that there are no gaps between line so you can select and fill later on.
2. Ok. For the fun part (or not, if you have no patience =______= ) Draw your KeyFrames! You can have ad many key frames you want. Be warned tho that too many keyframes can be really confusing and quite unnecessary. I chose to have 3 because I want my animations to be fairly simple. 8D anyways, when drawing my keyframes I try to imagine how I want my movements to look and draw like a general moving patteren. You keyframes should be in some kind of logical sequence. If you put together just your keyframes into an animation it should look like a very choppy animation.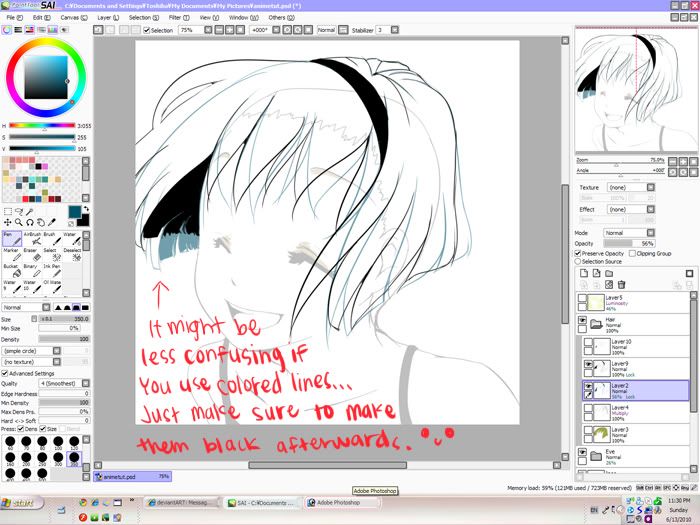 3. The SECRET to having SMOOTH animations are in the inbetweens. I sometimes (usually?) put in little to none inbetweens and just go with the flow. Those (if you've noticed) end up very choppy and movents turn out rather weird (I'm lazy, ok? OTL YOU'RE NOT THE ONLY ONE. I JUST LIKE MAKING ANIMATIONS. IDC ABOUT SMOOTHNESS AS LONG AS I CAN GET SOME MOVEMENT orz|||). But to set a good example today, I'M putting in some inbetweens. I know it's tedious but the more inbetweens you have, the better your animation will flow~ *sparkle* *u* Since this is a short,simple animation tho, I'm only putting in 2 inbetweens between the keyframes. If you get confused with the lines You might want to use different colores for each frame.
I Don't draw all the frames at once like this of course. That would be way too confusing @u@ I do them one at a time with both the frame that goes before and the frame that goes after at around a 20%~50% opacity so I can see them both at the same time and draw the movement that goes inbetween them 8D (SO SORRIE IF MY DESCRIPTIONS ARE CONFUSING QAQ I'M TRYING MY BEST)
4. COLOR (
THE
most tedious part of all QAQ) ALL OF THE FRAMES ONE-BY-ONE in the same method for coloring the base. Make sure the shadows and highlights are moving along with the hair QAQ
YOU'RE ALMOST DONE!!! once you finish coloring all of the hair, add a bg, or in my case shinies since im too lazy for a bg =A=
5. It's time to check out how well you did in your animation! I always get excited in this part. I love it when I get the movements right 8D Save your file and open it in ImageReady again. Line up your frames in the right sequence, mess with the frame rates and whatnot to make it play faster or slower and PLAY 8D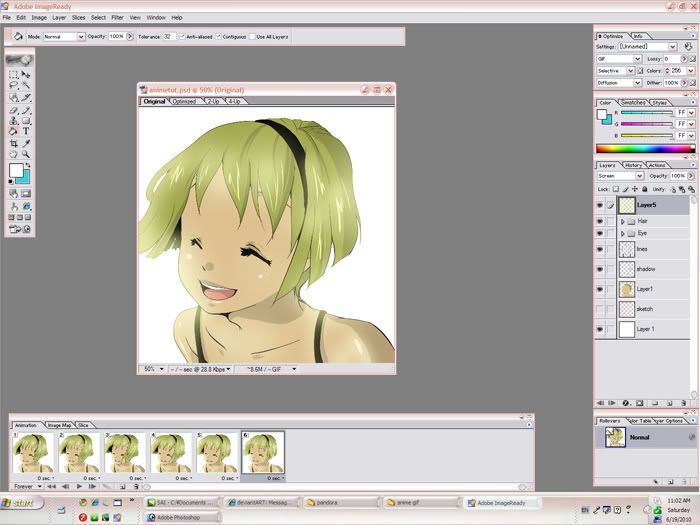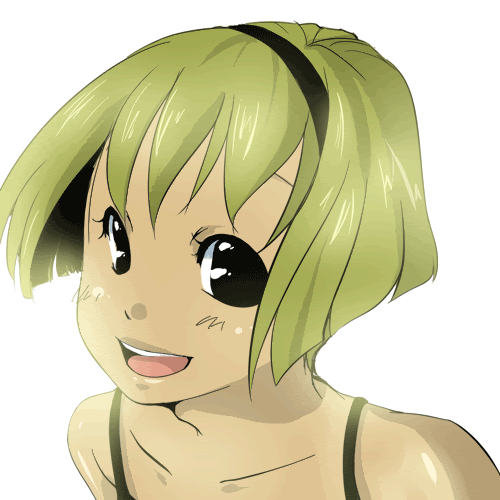 If you're satisfied with your movements, and go to "File--> Save Optimized As ---> type in whatever file name you choose ---> SAVE" AND YOU'RE DONE! 8DDDDDDD *dances*
You can make you character blink too if you line up your frames to make it blink and hair swish at the same time 8D
End Result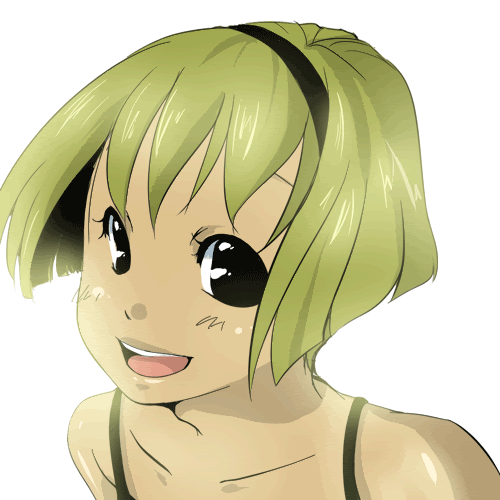 DONE! *U*
I hope this helps even a little QAQ This is the best I can do OTL
PLEASE PLEASE PLEASE REFRAIN FROM STEALING ANY OF MY PICS AND ANIMATIONS QAQ I WORKED ESPECIALLY HARD ON THESE THEM QAQ AND THANK YOU FOR TAKING TIME TO READ THIS QAQ <3333